nCrave can be found under Watch section on the left side navigation bar, or by clicking this link:
http://www.swagbucks.com/ncrave
they can also at times be found over your '
My Swagbucks
' page
GENERAL TIPS
You may need to do some manual nCrave before you get the full page, including the auto-runs.

You may need to 'unlock' the

nCrave

by doing some early in the morning.

nCrave

cards will start to disappear later in the day, so if you do not unlock them in the morning you wont have any later in the day.

If your

nCrave

page ever comes up blank, try either clicking "Daily Crave" link on HP (even if you did daily already), or try running an

nCrave

from card on HP if you have one there

You may need to clear your cache after every

nCrave

to keep them crediting. There are instructions how to do this, including some helpful extensions here:
NEW TIP June/2016 -

If you have an nCrave that hangs and is giving script errors, bring up Task Manager, find the plugin-container.exe that is using up a lot of memory/cpu, and end it. nCrave will continue. This is if using Firefox, if you use IE there should be a flash.exe or similar that you can kill.(thanks to stupidness for this tip!)

WARNING

For any

nCrave

: they may contain a virus. DO NOT CLICK JAVA POP-UPS, close the browser and run CCleaner


nCrave

ON MOBILE -

You can do any

nCrave

s on your mobile device. The auto-runs tend to run a bit faster on mobile devices.
Use a real browser, like chrome
Log in to Swagbucks
Go to http://www.swagbucks.com/ncrave on your mobile device
Click the menu button (three dots or three lines top right) and access desk top views. You MUST be on the nCrave page before you do this step.
You should be able to run ncrave just like you would on PC now
Remember to clear the browser cache often, just as if you were doing them on your PC.
TROUBLEHOOTING TIPS If your

nCrave

page is blank or says you have no activities available, please try one or all of the following
nCrave

are available in the US, but are not always available in other countries, If outside the US, keep checking to see if you have any.
Clear cookies and cache, learn how HERE
Be sure you are allowing 3rd party cookies and local data. Go to your chrome menu > Settings > advanced > Privacy > Content settings. Click to allow local data and uncheck the box to block 3rd party cookies
Reset your router, usually by turning off, waiting a few seconds, and turning back on. Google your router to learn how if this does not work
Change your IP if you are able, if you don't know what an IP is, or how to do this, please google it

New tip

(3/17/16) You may want to try running Encrave in private or incognto window
IF THESE TIPS DO NOT WORK, YOU ARE JUST GOING TO HAVE TO WAIT FOR THEM TO COME BACK.

Emailing SB about the issue doesnt get them fixed either, but you are welcome to complain to them.
TYPES OF nCrave

*Please note - as of 1/31/17 autorun nCrave are no longer available

1.

Auto-Run

- Some

nCrave

are auto-run, note the blue and white symbol on some cards. You can find instructions on how to make them run automatically by following instructions below; this allows to you to go do other things while the

nCrave

runs in the background.

To make these

nCrave

auto-run, follow these instructions exactly

a. Have the

nCrave

page open in browser, Chrome may work best for you, but its up to you.

b. Click on a card that has the auto run symbol (see below for example, note the symbol), a new tab will open.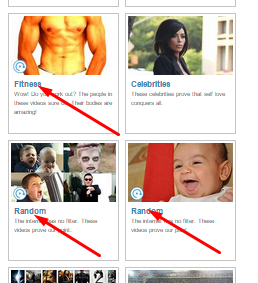 c. You have to click the discovery mode to make the check mark

d. Make sure your cursor is still over the discovery button or over the list of titles and press CTRL+TAB. This will bring you back to the

nCrave

page, or the next tab you have open in Chrome. The

nCrave

will be running even tho you can not see it.

e. Dont peek! Use a timer to count down for you (below). If you must peek to see if the

nCrave

is still running, and it is, click the highlighted title of the video that is playing and immediately press CTRL+TAB again.

f. When done close that tab and click another card from already open activities page. The activities page will refresh itself once you finish an

nCrave

.

To estimate the approximate run time on the auto

nCrave

:

Each video within an

nCrave

is approximately 30-45 seconds, some shorter, some longer. See how many videos there are, multiply by 30 seconds.

nCrave

will credit just as the last video loads, no need to go all the way to the end.

Example: an
nCrave
has 6 videos, approximate run time 180 seconds, or 3 minutes.
Use a timer to count down for you once you have figured about how long an
nCrave
will be. The following is one you can try, change the number of seconds at the end of the url to change the time.
http://e.ggtimer.com/180
2.
Manual nCraves
There are three types of manual
nCrave
. Like buttons, Checkmarks, and Slide shows/video 1 of's
Like/Dislike Buttons:
These
nCrave
may require you to click play if they dont start playing automatically, wait for the like/dislike buttons to be highlighted at the top and click one, the next video will load. As with most
nCraves
, you do not need to wait for the last video to highlight these buttons, as soon as the last video begins it should credit.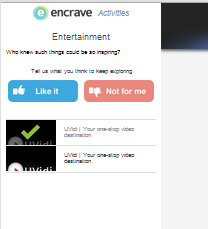 Checkmark

nCrave

:

These load like a list and have check marks along one side of the list. Open the first video, and close it, then wait for the highlighted check mark to appear.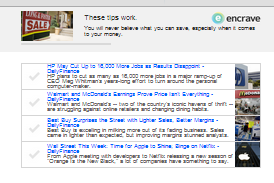 Slide shows or Video 1 of's:
These can be tricky. They require you to click the videos or slides and often take the longest to complete.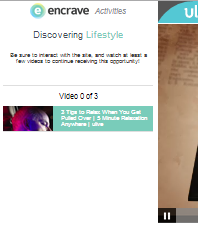 3.
Ledger nCrave

These easy 1 sb
nCrave
found over your
ledger
. You may have one or both of these:

Articles From the Web
Click the green 'Begin Exploring' button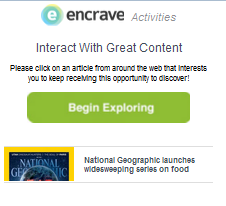 Wait 10-20 seconds for the articles to load at the bottom of the page, you may need to zoom out or scroll down to see them
Click one article, it will open a new tab, close it immediately, it doesnt even need to open all the way. You will then see you just earned 1 sb.

Close the tab, refresh the ledger page, and repeat.

Special tip:
You can save
nCrave
links to use at a later time. They may not always work, or they may give you a different
nCrave
, but at least you will have them on hand if you dont have any good
nCrave
to do.
To save the links:
on the
nCrave
page you find the card you want to save, then right click and copy the link. You save the link in notepad, or a sticky, somewhere you can access it later. To use you paste the link into your browser. If you get some type of error message then just try a different one.